Tennis Rebounders and Trainers
Working with the best tennis rebounders and trainers is a fantastic idea for anyone looking to learn tennis, practice at home, practice solo without a partner or a court or even those short on time who would like to squeeze a quick 15-30 minutes of tennis practice into their schedule. This gear will help you […] The post Tennis Rebounders and Trainers appeared first on Tennis Event Guide.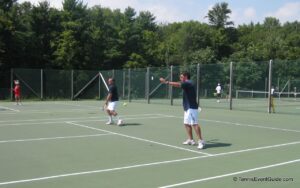 Working with the best tennis rebounders and trainers is a fantastic idea for anyone looking to learn tennis, practice at home, practice solo without a partner or a court or even those short on time who would like to squeeze a quick 15-30 minutes of tennis practice into their schedule. This gear will help you with footwork, strokes, eye-hand coordination and agility. Equipment for solo tennis players ranges from ball trainers, which have a heavy base, along with a ball attached to a cord that bounces back to you all the way to rebounders, which are large nets with lines, so you feel like you're practicing with a net. Here we review some of the best rebounders and trainers you can order to your home and be practicing in a few days.
Best Tennis Rebounders and Trainers
Fill n Drill Tennis Trainer
Paloza Tennis Trainer
Billie Jean King's Eye Coach Pro Model
Pro Impact Tennis Trainer
OnCourt OffCourt Topspin Solution
Mega Tennis Rebounder
Tennis Trainers
Tennis trainers are basically a heavy bottom that will stay on the ground attached to a cord and ball. The bases of tennis trainers can come as heavy as concrete or can arrive empty, and you fill them with water or sand. They are very inexpensive and a large selection is easily found on Amazon. Here we review a few tennis trainers, along with companion videos offering suggestions for tennis drills you can do at home, in your garage, backyard, a parking lot or local park.
Fill n Drill Tennis Trainer
Tourna Fill-n-Drill Tennis Trainer with Extra Ball, Blue
The Original warter filled tennis trainer. Fill-n-drill is the perfect portable tennis training aid. Simply hit the ball and it Comes back to you
Fill the base with water and it Instantly becomes heavy enough to hold the unit in place. Non-skid pads underneath help keep it stable
Unwrap the cord, hit the ball as hard as you want, and the ball bounces back to you. The harder you hit the faster the ball is rebounded to you
Rubber cord is 15 feet long and stretches to 30 feet for hard hit balls. To shorten the rebound, wrap some of the cord around the base to your desired length
Comes with an extra ball and string and a convenient mesh carry bag
More Tennis Trainer Rebounders
PALOZA Professional Tennis Trainer – Tennis Trainer Rebound Ball – Tennis Equipment for Self-Practice – Portable Tennis Practice Rebounder – Solo Tennis Trainer with Long Ropes and Tennis Headband
PROFESSIONAL TENNIS EQUIPMENT: Train like a pro with this amazing tennis trainer! Our professional tennis practice rebounder helps you improve your physical abilities, such as eye-hand coordination and focus, developing your tennis playing skills!
FOR SOLO TRAINING: When you don't have a partner to train, don't worry, our solo tennis trainer is your faithful partner. The highly elastic rope offers a smooth ball rebound, so you can practice your winning stroke without the need of an automatic machine
TOP-QUALITY TRAINER: The tennis trainer base is made of top-quality and high-density PE plastic, which ensures a steady hold, without slipping on the ground. The super elastic and resistant ropes ensure perfect rebound so you can practice safely.
LIGHTWEIGHT AND PORTABLE: Compact and lightweight, this professional tennis practice equipment allows you to train anywhere you feel like it! It is a space-saver in your training bag, so you can have an amazing training on the beach, tennis courts or in the park.
HEADBAND INCLUDED: The best is yet to come! Our tennis trainer set includes a tennis headband, which will make your training more enjoyable! Now you have a complete set to train like a real professional tennis player and practice that winning strike!
Ahari Unlimited Premium Tennis Trainer Set, Pro Tennis Rebounder with Metal Base in a Carrying Cylinder, 3 Replacement Rebound Balls, & Wristband, Portable Tennis Practice Equipment for Solo Training
【3 REPLACEMENT BALLS】Our Valuable Tennis Trainer Set includes 3 replacement balls attached to durable elastic strings as the main ball, which makes our tennis training set the best choice for you. Our tournament level balls are made of safe & durable materials, covered with premium felt with 60% wool which is the top level of quality for a tennis ball. Our Trainer comes in a cylinder that can fit into your tennis bag, and the replacement balls are packed in an airtight & sealed canister.
【HEAVY-DUTY METAL BASE】Ahari Unlimited Tennis Trainer Set contains a black iron base that is heavy enough to stay stable on the ground even with the hardest forehands, it doesn't require filling with water & sand each training session to increase the weight like cheap plastic baseboards out there, keeping your hands clean. It also features a non-skid rubber grip at the bottom to increase the friction with the ground and improves stability, which makes it works well on most surfaces.
【PERFECT STRINGS ELASTICITY】Our Pro Tennis Rebounder Set contains wear-resistant elastic strings with little less elasticity than other brands for a more realistic hitting experience, which has been well received as tennis gifts by many advanced players (the ball will rebound with convenient speed). Our professional strings attached carefully to our tennis balls and have very high resilience to bear intense tennis training, so you can strike as hard as you can with no fear of strings breaking.
【IDEAL FOR SOLO TRAINING】Ahari Unlimited Tennis Practice Rebounder Set comes with everything you need to take your tennis skills to the next level or just for warm-up without the need of a net or a partner when the ball is knocked away, it will always come back, so that it can be hit again afterward. Tennis accessories like ours is an ideal tennis set for practicing tennis anytime and anywhere whether indoor & outdoor, and it is perfect for adults and kids whether a beginner or a professional.
【100% SATISFACTION GUARANTEED】Order Our Tennis Training Equipment now with Risk-Free, we assure you that you will love the quality and durability of our self-tennis trainer, (You will be Amazed). If you aren't in love with our tennis practice trainer contact us & we will do our best to make you more than happy. THE PERFECT TENNIS GIFT! SO, DON'T WASTE MORE OF YOUR VALUABLE TIME AND TAKE THE RIGHT DECISION AND ORDER OUR PREMIUM TENNIS TRAINER & YOU WON'T REGRET IT!
Billie Jean King's Eye Coach Pro Model
Dozens of pros online tout this tennis trainer as their secret weapon for kids and adults alike. You can practice tennis in the smallest of apartments with this eye trainer. They claim "Only 5 minutes of Eye Coach Simulated Game practice = 90 minutes on court." According to her highness, the great Billie Jean King (insert my bow here), her trainer is all about improving hitting the target sweet spot.
Billie Jean King's Eye Coach Pro Tennis Training System, Portable Tennis Trainer, Trains 17 Different Shots and Spins, for All Ages and Levels
ACHIEVE YOUR TENNIS GOALS: Whether you're a beginner or a more seasoned tennis player, your goals no doubt include having lots of fun, getting great exercise, and winning more. The Billie Jean King's Eye Coach training system's job is to help you achieve these goals.
DESIGNED BY MULTISKILLED PROFESSIONALS: The Eye Coach was created by eye specialists and motor-memory and tennis experts. Tested throughout the world, the Eye Coach will quickly become your personal tennis trainer.
DRAMATIC, LASTING IMPROVEMENT: See an improvement in your power, accuracy, spin control (including topspin), and confidence. The tennis trainer helps you perfect the most crucial part of your tennis game: focus at the point of contact. It's the only time you can control the ball and Sweet Spot hits.
DON'T SETTLE FOR LESS: Billie Jean King's award-winning Eye Coach is a complete portable tennis training system offering perfect ball-striking practice anywhere, anytime. We offer 17 training videos and personalized support whenever needed.
IMPROVE TODAY & FOREVER: Billie Jean King's gift to tennis: a tennis training system trusted and used worldwide by clubs, professionals, and trainers. Our tennis practice equipment focuses on overall improvement that you can see on the court.
TOPSPIN MASTER Tennis Swing Trainer
Alternatives to BJK's Eye Coach – but really, does anyone want an alternative to BJK?
TOPSPIN MASTER Tennis Swing Trainer - Portable at-Home Training and Practice Tool - Retractable Ball, Adjustable Height, Firm Base - Indoor or Outdoor Personal Coach and Partner for Kids and Adults
MASTER THAT SWING! - Start your winning streak by developing some killer topspin. The Topspin Master tennis trainer device is designed to help you perfect your topspin strokes right in the comfort of your own home.
LEVEL UP YOUR GAME - Take your tennis skills to a whole new dimension. This tennis training tool helps improve hand-eye coordination, correct bad strokes, and boost your ball-watching skills.
TRAIN ANYTIME, ANYWHERE - Practice your topspin stroke whenever and wherever you like. No limitations. This portable tennis trainer is suitable for indoor and outdoor use. Feel free to set it up in your living room, patio or backyard.
FOR BEGINNERS & PROS - Whether you are just starting out or are already a seasoned player, this tennis swing trainer can help you hone your skills. This tennis training equipment also works great with kids.
HASSLE-FREE ASSEMBLY - No need to hire a handyman to assemble this tennis training equipment. The package comes with an easy-to-follow guide and all the tools and accessories you will need.
JUSTMYSPORT Professional Tennis Swing Trainer - Tennis Trainer Aid, Tennis Practice Tool for Beginners' use Indoors and Outdoors, Improve Basic Tennis Skills of Topspin and Downspin
- NEWLY UPGRADED DESIGN: Several improvements have been made to this product for your more comfortable exercise experiences. A longer elastic cord for a tennis ball can avoid players touching the spring when swinging. The buckle on the iron pole prevents the screw from loosening which makes the pole head more fixed. It can also provide stable support for training because the base has a valve for putting sand or water into it to increase the weight. The portable handle helps users to carry easily
- PERFECT TENNIS PRACTICE TOOL FOR BEGINNERS: Through using this tennis trainer, you will acquire real exercise experience as if you played tennis on the court. You can also train alone without any companion. Last but not least, there is no need to pick up balls to save your strength
- RAPID SKILL IMPROVEMENT: As a good instrument to practice and improve basic tennis skills including stroke by forehand and backhand to give a topspin or downspin ball. It can also help beginners to find the best spot contact and to improve footwork by striking balls in different heights and angles
- PRACTICE WHENEVER AND WHEREVER: This trainer can be used in many places such as home, yard, office, and court whenever you want to practice tennis, which means your exercise plan will not be limited by bad weather. Even though there are no professional training fields or nobody feeding balls to you, just enjoy the interest of tennis indoors with yourself
- SUITABLE FOR ALL-AGE TENNIS LOVERS: This is a product suitable for tennis lovers in the whole family including kids, youth, adults, and the elder. Whether you want to find something interesting to pass the time or have professional training, our product will be a good choice for you
Pro Impact Tennis Trainer
Sale
Pro Impact Tennis Trainer Rebounder Ball, Trainer Baseboard with Long Rope, Perfect Solo Tennis Trainers Round and Round Red
EASE OF USE AND ALL PURPOSE: Perfect Tennis Trainer for all purposes and improving your game of Tennis, it's easy to set up and use. Great gift for your friends, family members and children who love playing tennis
STABLE BASEBOARD - Adopt with ergonomic design, just adding sand and water together into the baseboard to increase the base weight for stable support. The built-in threaded hole also makes sure ball sturdy enough without falling off.
ELASTIC ROPE: The upgrade nylon elastic rope promises you durability and high elasticity in peacetime training
IMPROVE SOLO TENNIS SKILLS- This Tennis trainer not only enhances your tennis skills comprehensively, but also could improve your concentration, athletic ability and hand &eye coordination. Our Fill & Drill builds quickness, hand-eye coordination, and stamina. Will improve your concentration, athletic ability and develop interests of sports. Easy to use and convenient for training without the hassle of picking up the ball. It is lightweight and portable, helpful for single person practice.
DURABLE, EASY TO SET UP, PORTABLE- The base of tennis practice tool is made of quality environmental protection ABS plastic, sturdy and durable. It is lightweight and portable that can be set up anywhere and stores easily.
OnCourt OffCourt Topspin Solution
Topspin is often the difference between a win and a loss in any tennis game, and a must-have for any aspiring tennis player. Whether you're looking to perfect a Federer slice or a Nadal forehard, this topspin trainer is a handy item that can be set up just about anywhere, a fence, a ball cart or even a balcony railing. The topspin trainer with help you with groundstrokes, slice and kick serves.
TopSpin Solution - Tennis Training Aid | Practice Nearly All Shots in Tennis Anywhere | Attaches Indoors & Outdoors | All Ages and Skill Levels | Players and Coaches
GREAT FOR PRACTICE: Practice virtually ALL shots in tennis, although most will primarily use it for topspin groundstrokes. You can even practice both slice and kick serves!
FOR PLAYERS & COACHES: Our TopSpin Solution is designed for both players and coaches, and for ALL ages and skill levels.
INDOOR/OUTDOOR USE: Our patented design is practical for both home and court use!
PRACTICE ANYWHERE: Please view pictures to see the many convenient ways you can use the Topspin Solution.
ONCOURT OFFCOURT: We are the leading creative resource for youth tennis, training aids, court equipment and ball machines. Over 10 million players have improved using our products in over 100 countries.
Tennis Rebounders (Nets and Backboards)
Tennis rebounders are next level in terms of home practice. They require a lot more space, often a backyard, and are more expensive. But if you're looking to perfect your strokes with consistent and repetitive practice without a court or partner, there is no better option.
Net World Sports RapidFire Mega Tennis Rebounder
SIBOASI Tennis Rebounder S518 | Portable Tennis Backboard | Tennis Wall|Tennis Trainer
PROFESSIONAL TENNIS REBOUND NET - SIBOASI training net for tennis and pickleball to practicing strokes and hitting, used with players of all levels from beginner to expert, and ages from 3 to 90.
ADJUSTABLE TENSION - You can change the tension and height of the net for slow or fast plus when you hit it correctly it will come back for forehand or backhand.
ADJUSTABLE ANGLE - Updated Knob design lets you adjust the angle of the tennis practice rebounder in seconds. This net bounce balls back or return the balls according to your need to practicing volleys, smashes, etc.
ASSEMBLE & DISASSEMBLE - No tools required for assembly; Great alternative to building a wall in backyard, driveways or garages; Takes up a small area in garage and tears down easily if you need it to travel to a tournament.
1 YEAR WARRANTY - Our frame, net, and parts are covered with a 1-year warranty. We ensure that all products arrive at you without defects; 7/24 friendly customer service. Purchase 100% risk-free. Shipping by Express which takes 8 days.
Rally Master 10 x 12 Backboard
For durability, performance, and value, nothing beats a Rally Master Backboard! Our dense, solid panels have rich color molded all the way through the panel, not painted on a thin outer shell like fiberglass backboards. Rally Master Panels cannot be punctured like fiberglass, nor will they split, develop dead spots or be subject to irregular rebounds.
Decibel reading tests determined that the rebound sound level of a Rally Master Backboard was indistinguishable from that of a leading fiberglass manufacturer's top-of-the-line model.
Net World Sports RapidFire Mega Tennis Rebounder | Groundstroke & Volleying Practice (Small Or Large) (Small (5ft x 6ft))
EXTREME REBOUND BOUNCE – The high-quality netting delivers a consistently extreme bounce to give players excellent shot opportunities. Created using 2mm knotless PE with a 28mm mesh, the net will deliver an elite performance with excellent longevity.
GALVANIZED STEEL REBOUNDER FRAME – Manufactured from premium grade materials, such as galvanized steel, the tennis trainer rebounder is durable and long-lasting. The 1mm thick, 38mm OD galvanized steel frame features a black powder coating for added strength and a weatherproof, rust resistant finish.
DEVELOP YOUR GAME & TENNIS SKILLS – Always guaranteeing a returning tennis ball, the RapidFire Mega Tennis Rebounder net is an excellent bounce back tool for shot development. Improve your groundstrokes and volleying of tennis balls with the court/backyard tennis trainer.
ADJUST YOUR ANGLE – Unique to any other bounce back net, the RapidFire Mega allows players to be their own tennis tutor/tennis coach and fully adjust the angle to suit different training drills, ensuring full control of the trajectory of tennis balls with every stroke.
SMALL OR LARGE TENNIS WALL – Expertly suited to all ages, abilities, conditions & tennis court surfaces, the RapidFire Mega Tennis Rebounder is available in two sizes: Small (5ft x 6ft) & Large (7ft x 8ft). Suitable for indoor training and outdoor training.
Best Tennis Gear Tips & Tricks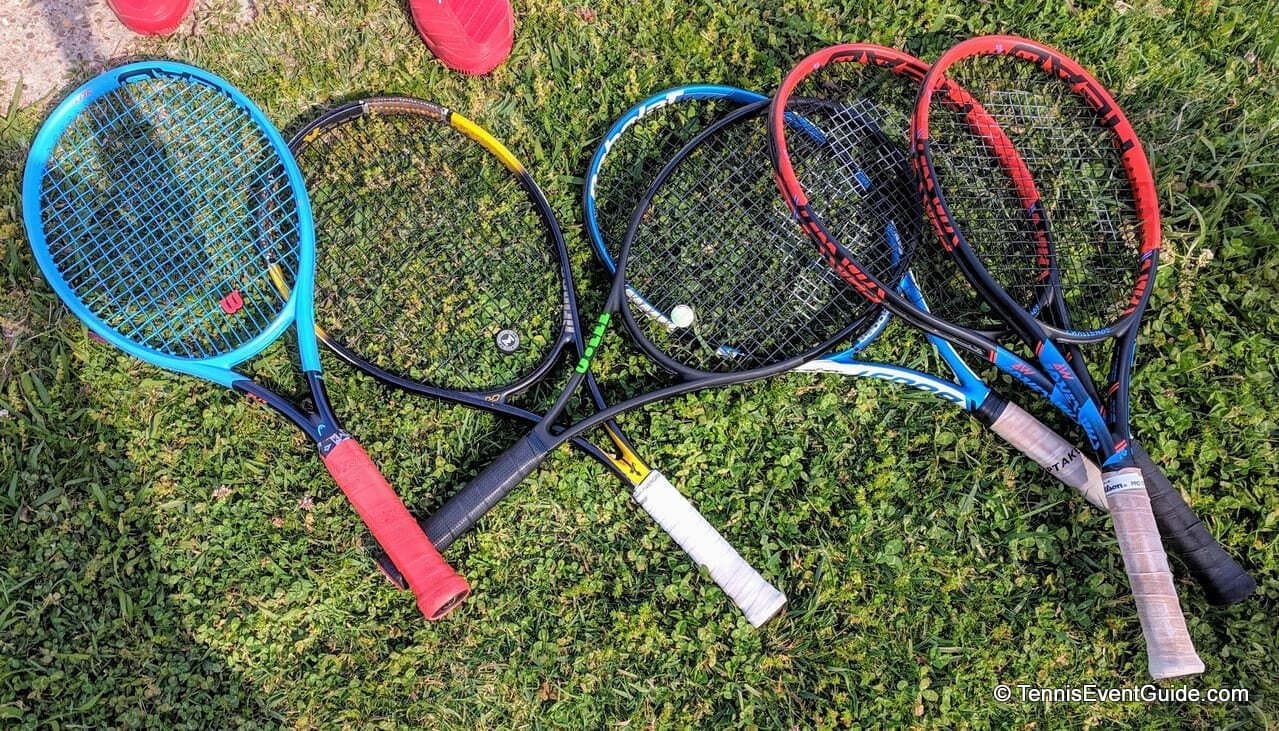 Back to Top of Best Tennis Rebounders and Trainers
Best Tennis Gift Guides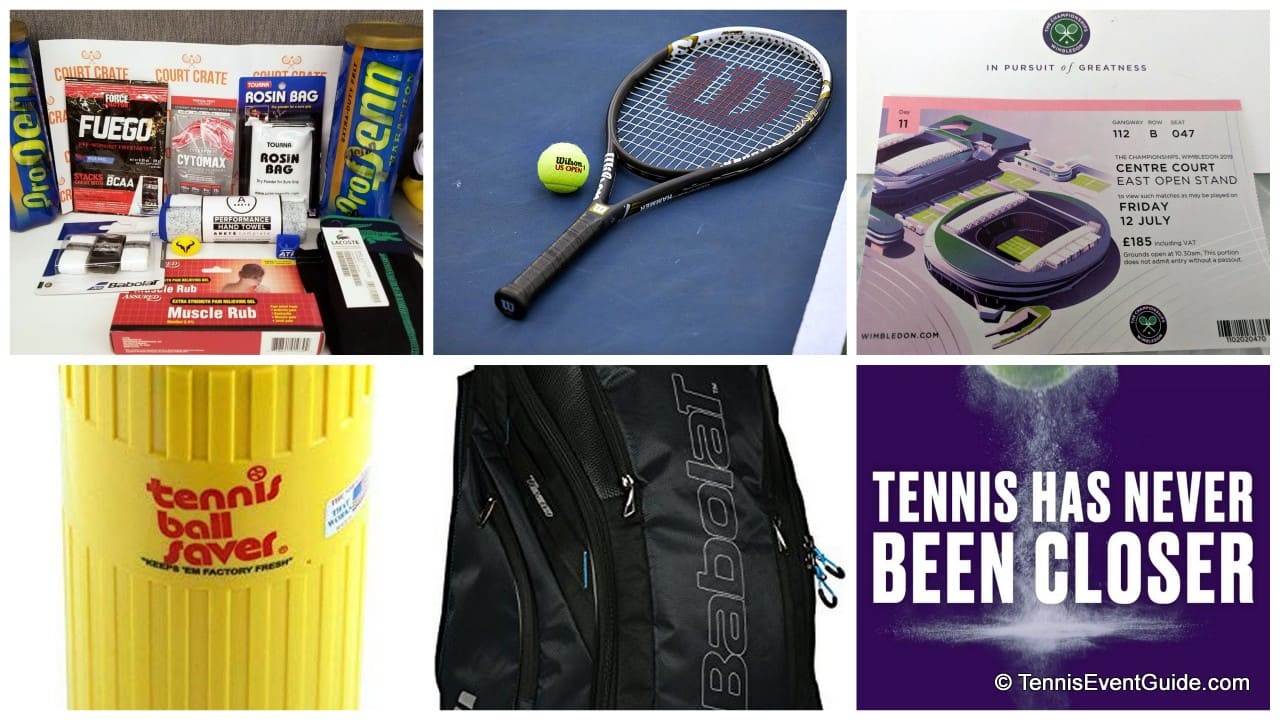 Home / Best Tennis Gifts Guide / Best Tennis Rebounders and Trainers
The post Tennis Rebounders and Trainers appeared first on Tennis Event Guide.