Cacao Espresso Flapjacks (Pamela's Mix as base)
Cacao + Espresso in a Flapjack = Gonna Be a Good Day
Espresso in your pancake? You may ask… BUT WHY?
Other than the obvious response of "WHY NOT THOUGH?" (ahem…from a lover of espresso over here ☕️)… Did you know espresso (and coffee) and cacao provide a good source of antioxidants?
While it's true we want to make our primary focus on a variety of vegetables and fruits for our antioxidants, we can also be a-okay with including goodies like dark chocolate (>70% cacao) and coffee. Antioxidants have many health-promoting benefits due to their anti-inflammatory actions in reducing oxidative stress and cell damage.
So if you're a fan of the chocolate+espresso combo, you may want to give this recipe a whirl.
And if you've followed the blog for a while, you may remember I'm also a major fan of flapjacks. I like to make them from scratch at times, but it's also good to test out the packaged box mixes since ya'll like to use these for convenience. For this recipe, I chose the Pamela's Mix because many of my gluten-free peeps like to use this one. You can choose a different packaged mix, but you may need to adjust the amount of liquid you add so that your flapjacks turn out with the consistency you like.
Ingredients for yield of 20 flapjacks (about 4" in diameter)
2 c (320 gm) Pamela's Pancake & Baking Mix

1/2 c (40 gm) raw cacao powder

3 Tbsp (20 gm) espresso powder (I used this one)

1 scoop chocolate whey isolate, or ~25 grams of protein (I used Thorne but use your favorite chocolate protein powder)

1/2 tsp (2.5 gm) baking powder

1/2 tsp (6 gm) sea salt

2 large eggs

1-1/3 c (320 ml) unsweetened vanilla almond milk (you can use any milk)

1 tsp (5 ml) pure vanilla extract
Preparation steps:
In a large mixing bowl, combine all ingredients and mix well (but don't overmix!). If the batter seems really thick, you can add a touch more milk. Sometimes you need to be a pancake connoisseur to know and "feel" this!

Get the griddle pan going on medium to medium-high heat. Lightly oil the pan with coconut oil or olive oil, or an oil spray or butter of choice.

Ladle the batter onto the griddle using a 1/4 cup as a guide. I personally prefer smaller flapjack sizes over the ginormous ones.

Carefully flip the flapjacks with a spatula once you see the edges firming up and some bubbles or pockets starting to form. Let 'em cook another few minutes and then remove from pan when browned and firm. I like mine cooked well!

Eat "as is" or top with other goodies such as nut butter, fruit & yogurt, sliced banana and a drizzle of maple OR make a sandwich out of it (<— my FAVE). Freeze the leftovers for later reheat in the toaster, skillet, or microwave.
Basic nutrition info:
95 calories
13 grams carbohydrate (2 grams fiber)
4 grams protein
3 grams fat
~3:1 ratio of carbohydrate to protein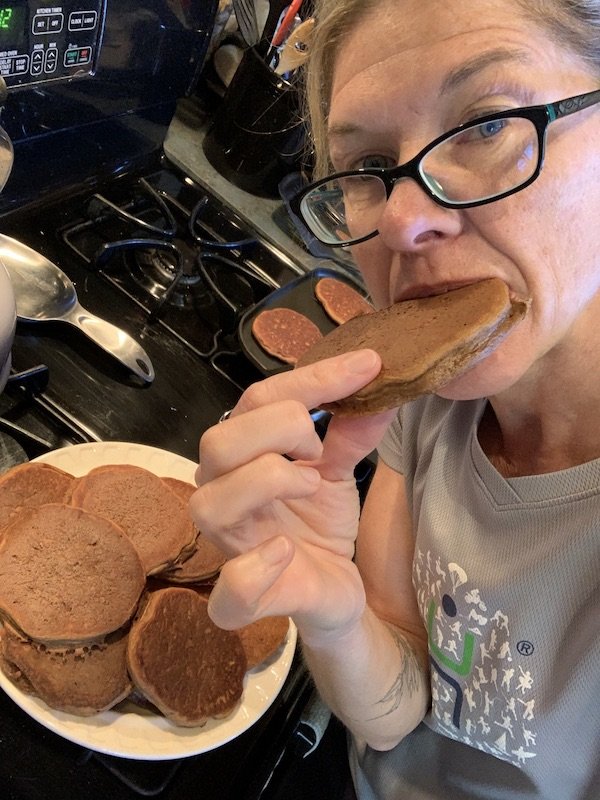 Taste-wise, the espresso flavor kinda grabs ya towards the end of the chew. But it's nothing crazy like a doppio espresso in Rome. You may detect a slightly bitter taste on their own, so you can experiment with different toppings to balance out the flavor if your palate needs it.
Don't forget that these can be used as a pre-workout snack, not just part of a breakfast meal. Let me know if you give this recipe a try (and please snap a photo and tag me on Instagram @nutritionmechanic so that I can see your flapjacks!).
Enjoy!
-Dina